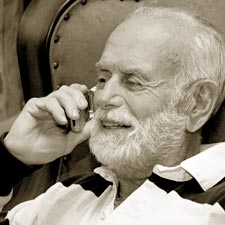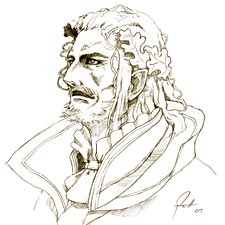 Norodom (Manny)
The first word that comes to mind when describing my father is 'wise.' Manny has always been the adviser and confidante of family, friends, patients and even strangers. His hallmark phrase is 'no problem,' which is not merely a response to crises, but a two-word philosophy of life.
My father is also known for an innovative and sleepless sense of humor. No one is safe from Manny's practical jokes; and Manny is able to duel with anecdotes the way the Russians duel with vodka shots: either way, the opponent winds up under the table. Prior to the advent of the internet, I had the real impression that my father single-handedly disseminated jokes throughout most of the southwestern United States.
Norodom's character shares many things with my father: the laugh lines that are the most prominent wrinkles of his face, the willingness (often to a fault) to see the good in others and to rely on it, the ability to respond to crises by thinking strategically and rolling up his sleeves, even -- later in the story -- the heavy, trembling hands.
And Norodom's character shares many things with all parents: the legacy of tragic mistakes (well meaning though they may be), a world -- partly, but not entirely of their own creation -- that they have failed to improve while acting as its custodians, and the inevitable exposure of their own shortcomings.